Become a Paint Social Venue
Contact us for more information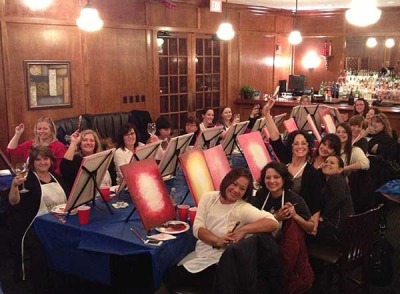 Join our growing list of popular venues! We want your establishment be the center of a fun filled evening that people will talk about over and over again at work, with family/friends and on social media. What Paint Social does for your business:
We bring foot traffic into your establishment on a slow night at NO cost to you!
We transform your unused space into an event full of painting customers!
Your establishment listed on Paint Social Art's web site & social media.
Increased Sales – Paint Social Art participants will enjoy your menu and bar selections
Guest check averages will be higher with a proactive server or bartender walking through the event asking for new drink orders during Paint Social Art events.
What to Expect
The event is usually 2 hours and is taught by our fun-loving, outgoing Artist
Usually starts at 7pm and ends around 9pm
We play our own music during the event
Artist uses a mic so everyone can hear well
We arrive 1 hour before to set up and stay 1 hour after to clean up
We cover your tables with a protective table covering and provide all supplies
No need for additional servers/bartenders - Use your existing scheduled staff
What Paint Social needs:
Tables cleared of all silverware, condiments and table tents.
A dedicated area with tables and chairs arranged according to the pre-discussed floor plan prior to the artist arriving
It's best to have a separate area so we do not disturb non-participants
Bright lights! - Please turn up the lights during Paint Social Art events
What we need to market:
4-6 weeks to promote the first event
Signage posted in your establishment with event info
Post events on your FB page and/or web site
Consistency - Same time, same place!! Schedule regular events
We look forward to working together with you!! Contact us for more information